Philips 2000 3-in-1 purifier, fan & heater
R7899,00
Introducing the Philips 2000 3-in-1 Purifier, Fan & Heater, the ultimate solution for a comfortable and clean home environment all year round. This innovative device features advanced purification technology that removes up to 99.97% of allergens and pollutants, such as dust, pet hair, pollen, and bacteria, from the air. It also comes with a HEPA filter that captures particles as small as 0.3 microns, ensuring clean and healthy air for you and your family.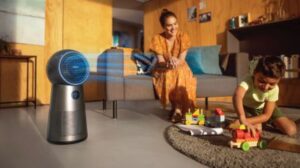 But that's not all, the Philips 2000 3-in-1 Purifier, Fan & Heater also doubles as a fan and heater, making it the perfect appliance for any season. Use it as a fan to cool you down during hot summer months or as a heater to keep you warm and cozy during the winter. The device comes with a thermostat that maintains a constant temperature and ensures energy efficiency.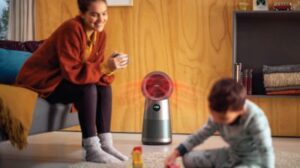 The sleek and modern design of the Philips 2000 3-in-1 Purifier, Fan & Heater blends seamlessly into any room, and the easy-to-use control panel allows you to adjust the settings and switch between modes effortlessly. With its compact size and quiet operation, this device is perfect for small to medium-sized rooms, making it an ideal addition to any home or office. Say goodbye to stuffy air and uncomfortable temperatures with the Philips 2000 3-in-1 Purifier, Fan & Heater.
*1-5-day delivery throughout SA
*WHILE STOCLS LAST*
Description
Purifies rooms up to 42 m²
The purification function is suitable for a room size of up to 42 m² **. Optimum 360° airflow intake design and high ultra-fine particle filtering efficiency drive purification performance of up to 165 m³/hr of Clean Air Delivery Rate (CADR) *. It can effectively clean the air of a 20 m² room in 17.5 minutes.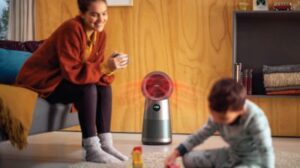 Filters 99.95% of particles as small as 0.003 microns
3-layer filtration with NanoProtect HEPA, active carbon and pre-filter captures 99.95% of particles as small as 0.003 microns, smaller than smallest known virus***, removing bacteria, pollen, dust, PM2.5, pet dander, dust mites, mould spores, odours, gases, aerosols and other pollutants.
Air quality sensor, temperature and filter status
Air quality sensor detects particles in the air smaller than 2.5 µm and displays it in real- time with both numerical and color-coded feedback. The colour bar provides a visual indication of the indoor air high quality, ranging from blue (good), purple (fair), pink (poor) to red (very poor). The real-time display also shows indoor temperature and filter change alert.
Cools you with clean, refreshing air
Delivers a gentle stream of fresh air, ideal for making rooms experiencing warmer temperatures more comfortable. The fan mode only blows out purified air, ensuring you breathe and enjoy clean and refreshing air at home.
Warms you with pure, cosy warm air
Ceramic technology heats up the air in just 3 seconds to deal with cooler environments quickly. The heater mode only blows out purified air, letting you breathe and enjoy clean and cozy air at home.
Adjustable 350° oscillation reaches everywhere you need
Adjustable 350° oscillation enables to circulate the air as you need it across the room.
3-speed settings for purifying heater and fan modes
Choose from 3-speed fan levels: 7.5 W, 15 W and 25 W or 3-speed heat levels: 1250 W, 1500 W and 2200 W. It always delivers purified air in any setting, so you enjoy and breathe pure and clean air.
3-level setting for lights display, including sleep mode
3-level setting for lights display. Fully lit option displays a light ring to indicate heater or fan mode and the air quality sensor. Partially lit option shows only the air quality sensor. Sleep mode option turns off all the lights on the device.
Bladeless design for added safety
Bladeless design produces a constant stream of purified air with no exposed fast-spinning blades, providing  added safety.
Easy operation with magnetic remote controller
Magnetic remote control provides simple operation and returns easily to the dock in the device.
*Warranty: 24 Months
Technical Specifications
Cord length: 1.8 m
Voltage: 220-240 V
Frequency: 50-60 Hz
3-level heat setting: 1250W-1500W-2200W
3-speed fan setting: 7.5-15-25 W
Replacement
Replacement filter: FYM220/30
Design and finishing
Colour(s): Metallic Black
Control panel type: Touch
Display: LED screen
Material of main body: Plastic
Weight and dimensions
Weight of product: 4.9 kg
Weight incl. packaging: 7.2 kg
Dimension of packaging (LxWxH): 31 cm x 30 cm x 64 cm
Dimension of product (LxWxH): 25 cm x 25 cm X 59 cm
In short
Air quality feedback: Numerical and Color-coded
Air quality sensor: Particle (PM2.5)
360° purification – Yes
Auto-off timer – Yes
Child safety lock – Yes
Sleep mode – Yes
User interface – Yes
Web Reviews
Silondiwe – 06 Apr 2022

Good product. It has a real time sensor that tells you how 'polluted' the air is. My favorite feature is the timer, I can set it in my sons room and drift off to sleep knowing it will switch itself off. I also like that it rotates almost full circle. Warm air function works well, armed and ready for winter this year. Cons, you have to elevate it as the fan does not rotate vertically and a bit noisy on the highest fan speed.
Megan – 02 Aug 2022 (Reviewed 7 days after purchase)

Warms and cools a big room super quickly and efficiently! A great product all round!
Johan – 15 Dec 2022 (Reviewed 8 days after purchase)

Works very well and does the job!
Linda – 03 Sep 2022 (Reviewed 3 days after purchase)

It comes at quite a price however happy with the buy